The YOIS Shoppekeeper
Aside from copying disks and selling from my personal collection, the most frequent Shoppe request I get is from people wondering, "When is the EXAMINE THE SHOPPEKEEPER page going to be updated?" Well, I'm pleased to say the long wait is over, and I can now share a little information about myself.
---
I'm a graduate of Illinois State University, where I first got started collecting back in late 1994. I'd just discovered how you could buy stuff from people over the Internet, and was trying to accumulate a complete set of Infocom grey boxes, many of which I had yet to actually play. Along the way, I bought up a large box of what I assumed would be all greys, but which turned out to be my first encounter with the strange folio packages. (I played my first Infocom game -- Enchanter, bought off a classmate -- in the 7th grade, about 1986, so I completely missed the folio era.)
Of course, now that I'd seen these big, extravagant packages, I just had to have them all. One thing led to another, and before long I had enough duplicates to start trading with other collectors. Eventually I started posting lists and self-managed auctions, which gradually evolved into the Shoppe you now know and love. Jay Goemmer was kind enough to host the original list -- column, sale list, and wanted list all on a single page -- at his Downbelow Station for a couple of years, and finally Stefan Meier and Manuel Schulz offerred YOIS a home at IF-Legends.
My Interests, Besides Collecting:
Gaming. Yes, believe or not I do actually find time to play some games.

All-time favorite Infocom text game: A Mind Forever Voyaging.
Least favorite Infocom text game: Nord and Bert.
Least favorite Infocom game, period: Leather Goddesses of Phobos 2.
All-time favorite graphic adventure game: The Last Express.
All-time favorite RPG game: Tie between Fallout and its precursor, Wasteland.
All-time favorite non-adventure game: Lode Runner. (Finished Championship all by myself, and still have the framed certificate from Broderbund with my name on it.)

Reading. All-time favorite book: Infinite Jest by David Foster Wallace.
Movies. A variety. Sci-fi, action, drama, some classics. I have a special appreciation for crappy '80s comedies, anything written or directed by Andrew Niccol, and anything with A.J. Langer in it. All-time favorite movie: Terminator 2 (nearly, but not quite, edged out by The Lord of the Rings).
TV. I admit it, I watch too much. 24, X-Files (the first 4 seasons), Millennium (the first 2), Firefly, Freaks and Geeks, My So-Called Life (A.J. again), just about any American animated show, but I can't get into the goofy Japanese stuff. Wrote the TVTome episode guides for Pole Position and Pirates of Dark Water.
Jogging. Lost 45 pounds about a year ago, and kept it off! More than anything I'd like to run in a marathon before I die, but I just don't think I have the stamina for it.
Music. Some New Age, some '80s and '90s rock... really into techno (electronica, club, NNG-tsh-NNG-tsh-NNG-tsh, that kinda music) at the moment. Favorite DJ: Paul van Dyk. (Oakenfold is good too but somewhat overrated, IMHO).
---
Okay, enough yack. How about some pictures? (Real ones this time, not a rehash of last year's shameful April Fool's Day joke.)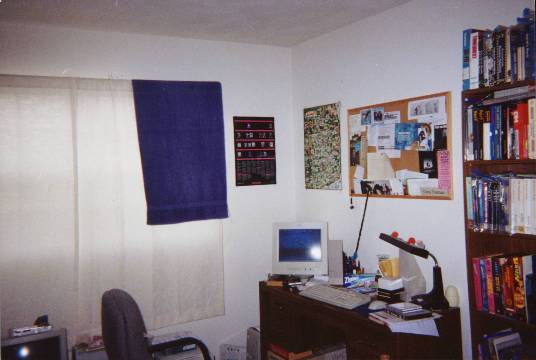 Shoppe Central. Where the magic happens. Someday I'll edit the picture and add numbers and explain what everything is.
---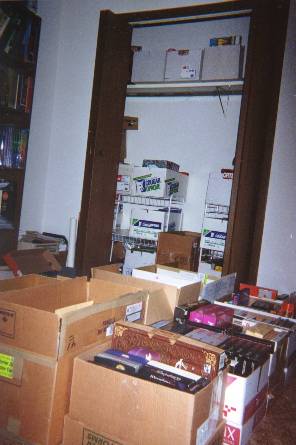 The "Shoppe" itself. Or two-thirds of it, rather: The rest is now filling up a hallway closet. This is what it looks like when everything is organized. Trust me, you don't want to see it when it's not.
---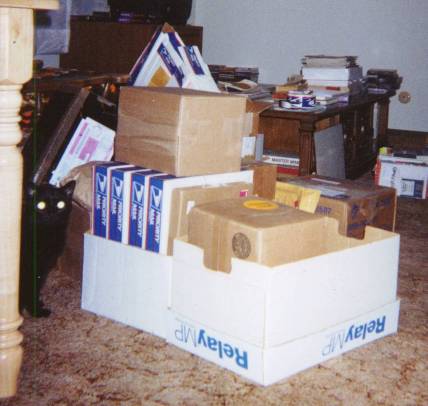 Typical outgoing mail at my place, on a busy week.
---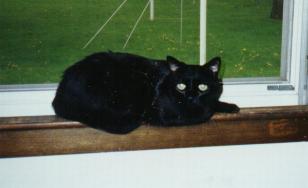 Meet my li'l Bujja-Bujja, the official mascot and ever-vigilant Guardian of Ye Olde Infocomme Shoppe. She enjoys Friskies®, lap-time, tummy-wubs, and sniffing curiously at all the crap I drag into my place. (Don't worry, she's not allowed to actually touch anything.)
They say people and their pets resemble each other, so this should give you a good idea of my appearance.
---
All right, you've all been very patient waiting for me to get a picture of myself up. Here we go. This is me: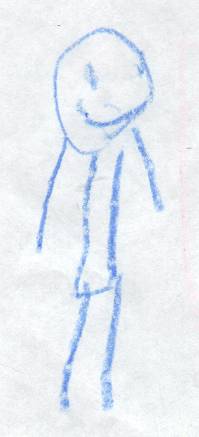 Actually it's my dad, but I'm told we look very much alike. My nephew Jacob drew it. He was six at the time. (He's 17 now.)
---
Okay, for real this time. Here, at long last, is an actual, honest-to-God photograph of me.
I took it myself!
---
Okay, really truly seriously now. Here is a genuine, unobstructed photograph of my actual face, showing the world exactly what I look like:
There. Everybody happy now?
---

Copyright © 2000 - 2013 Ye Olde Infocomme Shoppe. All rights reserved.
(Best viewed at 800 x 600.)