Really Old Dolly Madison Cream Cheese Danish
Item # 1389351797
Please feel free to E-MAIL ME with any questions, both during and after the auction.
Pay me securely with any major credit card through PayPal!
---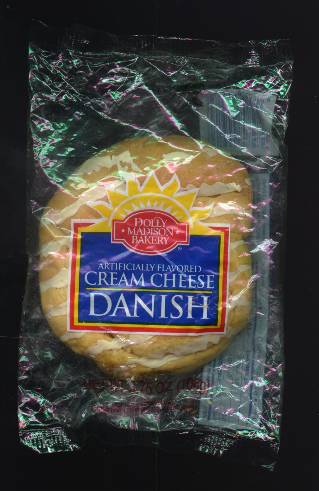 Here's a great find I made while cleaning out my desk at work the other day: A really old cream cheese Danish by popular snack-maker Dolly Madison.
This item has a rich and fascinating history: When the vending guy restocks the machines in our office breakroom, he takes out all the stuff that's about to expire and leaves it on the table for free to anyone who wants it. One time there were a couple of cheese Danishes, and Mike, the guy in the cube next to mine at the time, took one and said I could have the other. Somehow I never got around to eating it, and eventually forgot about it until now.
That was years ago... the back of the package says 1996, but the front gives an expiration date of February 21st, so it may have been good until early 1997. That would have been about the time we moved into that office, so I'm quite certain the date is accurate.
The package is still sealed, never opened, leaving the Danish well-preserved. It is quite petrified and makes a pleasant thunk sound when knocked against my desk. There is no mold or other disgusting discoloration anywhere, not even on the cream cheese topping. Whatever preservatives Dolly Madison added, they did what they were chemically engineered to do, and they did it well.
Ingredients: Enriched wheat flour [flour, barley malt, ferrous sulfate (iron), "B" vitamins (niacin, thiamine mononitrate (B1), riboflavin (B2), folic acid)], sugar, cream cheese (pasteurized milk and cream, cheese culture, salt, carob bean gum), water, vegetable and/or animal shortening (may contain one or more of: partially hydrogenated soybean, cottonseed, or canola oil, beef fat), whey, yeast. Contains 2% or less of: Whole eggs, salt, stabilizers (modified food starch, agar), mono and diglycerides, soy protein isolate, dough conditioners (sodium stearoyl lactylate, calcium iodate, calcium dioxide), potassium sorbate, calcium propionate and sorbic acid (to retain freshness), natural and artificial flavors, sodium caseinate, titanium dioxide, calcium sulfate, calcium carbonate, ammonium sulfate, color added (Yellow 5 and 6).
Yum. For those of you counting calories, this Danish has 370 of them, 130 from fat which makes 15 grams of fat (8 saturated), 30mg cholesterol, 400mg sodium, 52g carbohydrates, 7g protein, 8% of the recommended daily allowance of calcium and 4% for iron (based on a 2000 calorie diet). Product number is "CRCHDN3.75".
Does Dolly Madison still make these? If not it is a terrific collector's item for the vintage pastry enthusiast. Like in the episode of "Seinfeld" where Elaine's boss gets the really old piece of cake from Louis XVI's wedding and she eats it. This can only appreciate in value as the years go by. If your family hangs onto it for the next 500 years you could probably trade it for a moon or possibly even a small planet. I challenge you to find another one of these this old anywhere, even on eBay. This variety is far less common than the ones made by Hostess.
I am selling this as a novelty and would strongly recommend against actually eating it (and I will not assume responsibility for any digestive misfortune you may suffer as a result). But if you should decide to cast aside rational wisdom, the Danish is microwaveable -- it says so on the package -- and if you dunk it in some milk to soften it up there's a slight chance it could still pass for edible, provided you're really hungry. If that's the case, though, you should probably have something to hold you over until the auction closes and the package gets delivered. I would also suggest having a skilled dentist if you plan to take a bite out of it. Or you could spray-paint it black and it would make an excellent hockey puck.
Absolutely no reserve! The starting bid is 65 cents, the price it would have sold for in the vending machine. Add $1 for first-class shipping within the U.S. International bidders please e-mail me for shipping quotes.
Be sure to check back in the coming weeks, as I may also put up some really old potato chips and Pop-Tarts.
Good Luck!
---

Ye Olde Infocomme Shoppe is maintained by C.E. Forman. Copyright © 2000 - 2020, C.E. Forman