Sample the Works of the Master Storytellers
by Infocom
(Unopened)
---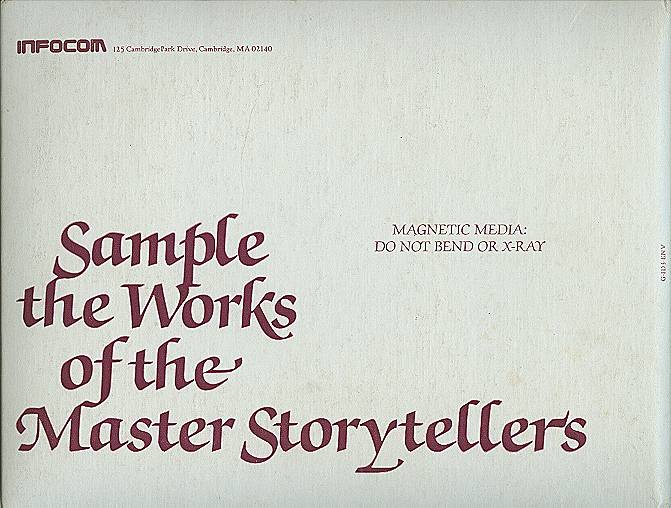 The second Infocom Sampler, released in 1987 and containing brief interactive demos of Zork I, Leather Goddesses of Phobos, Trinity, and Wishbringer. This one was packaged completely differently from the 1984 Sampler, in a white cardboard envelope instead of a blister pack. Both seem about equally scarce.

Inside, the disk is labeled The Infocom Sampler, rather than Four-in-One, and has both Apple and PC code. It also came with a manual titled "Enter a World Limited Only by Your Imagination", the same size as those from the slipcover "greys".

Infocom published these in an effort to recruit new players into their ranks. The suggested retail price was $7.95, but if you liked the sampler enough to buy a full Infocom title, you could cut out a coupon on one of the manual pages and mail it in with the full game's registration card for a rebate. If you didn't like it, you could return the original disk with the coupon and store receipt, and get back the purchase price.
---

Copyright © 2000 - 2022 Ye Olde Infocomme Shoppe. All rights reserved.
(Best viewed at 800 x 600.)