Welcome to Ye Olde Infocomme Shoppe. You are not currently logged in.
---
Start of a transcript of:
YE OLDE INFOCOMME SHOPPE
PHP/MySQL Edition <!!--YOIS Logo-->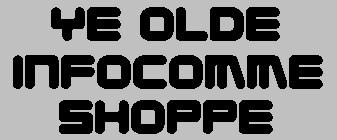 Est. 1996
>OPEN THE DOOR THEN ENTER THE SHOPPE
The unused hinges squeal loudly as the door opens.
Ye Olde Infocomme Shoppe
You gasp in awe at the stacks of classic Infocom packages that dominate all corners of this dimly-lit establishment. Scanning the titles, your heart soars. You've been looking for these for years, and at long last you've found them!
In the far corner, someone behind a counter nods a greeting. Coming closer, you see a Shoppe brochure tacked to the front. To one side of the counter is a bulletin board with a sign-up sheet attached. Behind the counter, a massive door with a single window looks in on an impenetrable vault.
A rack of business cards sits atop the counter.
Just inside the door is a suggestion box.
>WHAT'S NEW AT YE OLDE INFOCOMME SHOPPE?
>EXAMINE THE STACKS OF GAMES FOR SALE

>EXAMINE THE GAME AUCTIONS

>EXAMINE THE BONANZA BOOTH
>SELL TO THE SHOPPE
(my wanted list)
>READ THE SHOPPE BROCHURE
(the FAQ)
>EXAMINE THE SIGNUP SHEET
(the waiting list)
>READ THE BUSINESS CARDS
(the links page)
>EXAMINE THE SUGGESTION BOX
(the survey)
---




Browse my collection of auction deadbeats and other eBay excrement!
---

Copyright © 2000 - 2023 Ye Olde Infocomme Shoppe. All rights reserved.























(This space intentionally left blank.)