SwordThrust 3: The Kidnappers Cove
by CE Software
(Disk and paperboard folder)
---

The Swordthrust series by CE Software (no relation to your humble Shoppekeeper) was a set of seven text adventures with role-playing elements, high on character interaction.
The King's Testing Ground
The Vampyre Caves
The Kidnappers Cove
The Case of the Sultan's Pearl
The Green Plague
The Eternal Curse
The Hall of Alchemie
The first episode, The King's Testing Ground, contained the guide for interacting with the parser, as well as the game file interpreter required by subsequent adventures, which were data disks only. In a way they were early "expansion packs", in thin paperboard folders printed with minimal instructions.

You can still get these from Prairie Group, Inc., where the original programmer (Donald Brown) now works, for $20 each plus shipping. The disks are recent writes, and I haven't ordered any so I'm not sure if the outer folders are reprints as well. They're also out of manuals from King's Testing Ground.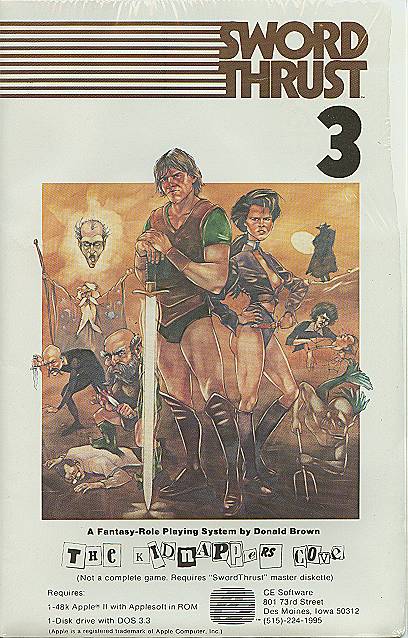 The Kidnappers [sic] Cove is the third game in the series. All episodes have the same cover art, only the number and title are different. My disk boots, but won't play without the master. Anyone got one?
---

Copyright © 2000 - 2022 Ye Olde Infocomme Shoppe. All rights reserved.
(Best viewed at 800 x 600.)