Forbidden Quest
by Pryority Software
(Large folder)
---
Founded by and named after William Pryor, Pryority Software released at least two adventure games around 1984: one called Gateway, and the better-known Forbidden Quest.

The Pryority package is a large folder, Infocom folio-sized and complete with inner flaps along the bottom to hold the game materials in. Pryority's claim to I-F uniqueness was called "Artext", which incorporated a series of glossy artwork sheets in the game package (and also served as the off-disk copy protection -- details in the pics were omitted from the game text, a la the Tresyllian Castle brochure in Moonmist).

One amusing detail about the Forbidden Quest artwork is the blue oval covering up the scantily-clad villainess' "area" (to borrow an MST3K term) on the package's reverse: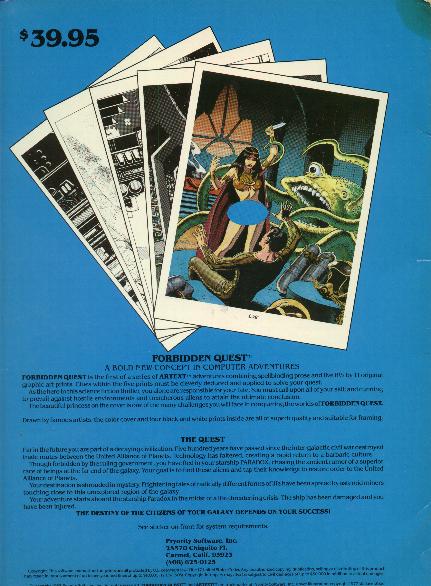 On the front cover, this was censored by a system requirements sticker on the outside of the shrinkwrap...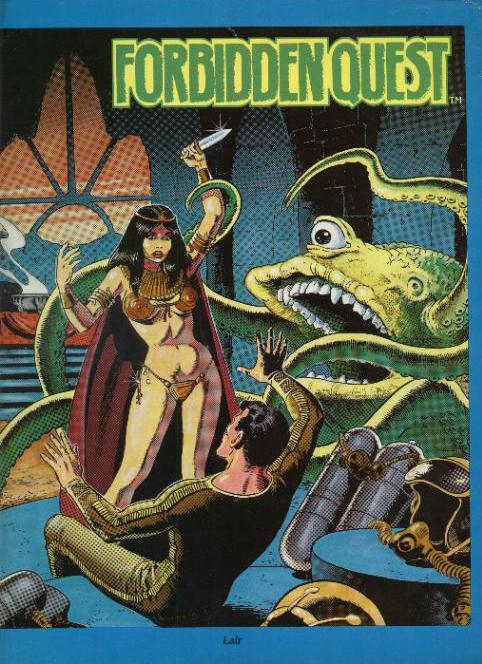 ...leaving her visible to any and all prying eyes once the wrap was pulled off (yet another argument in favor of keeping games shrinked B-).

Another interesting side note: I know of one other collector who paid $400 for his (admittedly very rare) PC version. Cost of my Apple II version? $3.25. And people wonder why I don't collect PC-only.
---

Copyright © 2000 - 2022 Ye Olde Infocomme Shoppe. All rights reserved.
(Best viewed at 800 x 600.)