Enchanted Scepters
by Silicon Beach Software
(One-piece box)
---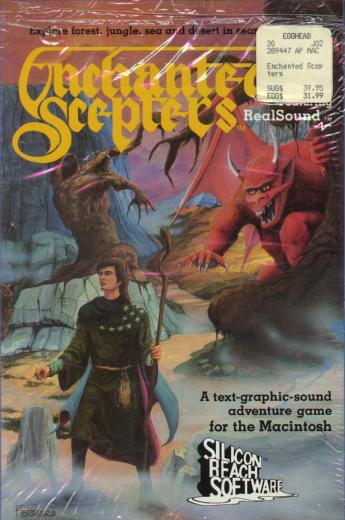 This is the earliest point-and-click adventure I've ever come across (1984).

Enchanted Scepters, being Mac-only, gives the option of shortcutting some of the command entry using the mouse. The text window is scrollable, commonly used verbs are listed in a commands menu, and you can click on doors, objects and characters to perform the "logical" action with them. (The instructions only mention clicking, never double-clicking... How far we've come in 15 years! B-) For the more creative and obscure commands, there is no equivalent click, and the command must be typed. (So it's not pure P-n-C.)

While not an RPG or even quite a hybrid, there is some randomized combat, physical and spiritual strength (hit points), and the ability to aim a weapon swing at a particular part of an enemy. Lists of weapons to use, spells to cast, items to offer, and directions to run allow most of the combat to be mouse-driven.

Enchanted Scepters was developed using the company's World Builder game creation system and RealSound engine, suggesting that Silicon Beach produced multiple adventure games, but this is the only one I've ever found. The World Builder app was placed into the public domain in 1995 and is available for download.
---

Copyright © 2000 - 2022 Ye Olde Infocomme Shoppe. All rights reserved.
(Best viewed at 800 x 600.)