Rendezvous with Rama
by Trillium / Telarium
(ASL release in plastic case)
---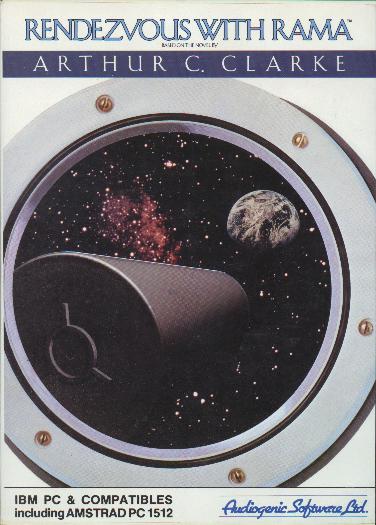 Here's what I'm talking about when I refer to the "ASL plastic case" versions of the Telarium titles. They're the size of a videocassette box, maybe a little larger, with disks, instructions, and the same art on the inlay.

Most of the props exist in some form or another, usually the same as the Telarium box contents. The manual for Perry Mason has the combination restaurant menu / command list, though it's not a pull-out like in the folder packages. Rendezvous with Rama has the ship schematic. The major omissions I see are Amazon's map and Dragonworld's plastic window stick-on.

ASL -- Audiogenic Systems Ltd. -- distributed the Telarium library in Europe, with the exception of Shadowkeep, and they're actually easier to find in PC format in this type of package.
---

Copyright © 2000 - 2022 Ye Olde Infocomme Shoppe. All rights reserved.
(Best viewed at 800 x 600.)