Lord of the Rings (Game One)
by Melbourne House
(Large plastic case)
---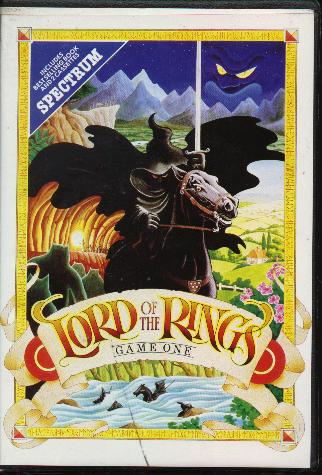 European release of the first Melbourne House Lord of the Rings adventure. This is the same game as Fellowship of the Ring: Fellowship is the U.S. title, distributed by Addison-Wesley, while the U.K. release was simply called Lord of the Rings: Game One.

Finding one of these in really good shape can be kind of tricky. The thick plastic case isn't very sturdy and has a tendency to get chipped or crushed, especially if the copy of Tolkien's novel is taken out, which in most cases, it will be. It's also available in a hard flat plastic folder with the same cover art, but sans the book.

Say, anybody got one of the promotional Nazgûl holograms they offered when this game was first released?
---

Copyright © 2000 - 2022 Ye Olde Infocomme Shoppe. All rights reserved.
(Best viewed at 800 x 600.)