Pyramid 2000
by Radio Shack
(Cassette ("Pyramid") with large manual)
---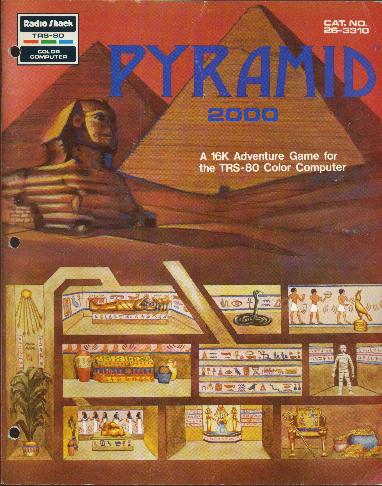 Most TRS-80 catalogs (and even the game's cassette label) have it listed simply as Pyramid, but every manual version I've ever come across says Pyramid 2000. Despite the title and apparent Egyptian setting, it's actually Yet Another Colossal Cave Port.

Radio Shack packaged their game cassettes in plastic bags with large manuals (8.5" x 11"), but no outer box. The holes punched in the manual are an "enhancement" made by the previous owner, for easier storage in a 3-ring binder. I've come across two different covers for this one, both pictured above. (Is it just me, or does "2000" in a title seem much less impressive now than it did back in 1980?)

Two different cover variations exist for this game.
---

Copyright © 2000 - 2022 Ye Olde Infocomme Shoppe. All rights reserved.
(Best viewed at 800 x 600.)