Voodoo Castle (Adventure #4)
by Adventure International
(AI styrofoam folder)
---

Only Infocom rivals the Scott Adams Adventure Series for sheer number of package variations.

The earliest packages I've seen (1980 - 82) are the "styrofoam folders", which contained text-only versions of the games. Instructions were printed on the inside front cover of the folder, with copyright information and ads for other AI titles on the inside back cover. Packages with cassettes had an opening cut into the styrofoam, which broke easily, making these difficult to find intact once the shrinkwrap has been removed.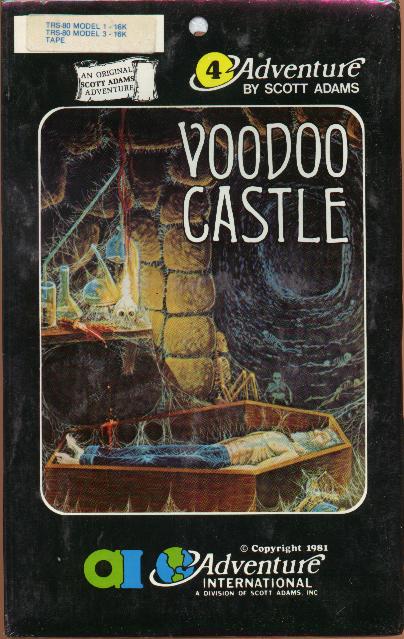 Pictured above is Voodoo Castle in this variation. The original twelve Scott Adams Adventures, as well as the Other-Ventures and AI's arcade games, were all packaged like this.

Prior to these, the Adventures were sold in one of two types of polybags: The first was simply a baby bottle liner with a folder business card stapled to the top. Later AI began including full-color inserts in larger plastic bags. If anyone has one of these packages, I'd appreciate a scan. Thanks to Scott Adams himself for providing these details.
---

Copyright © 2000 - 2022 Ye Olde Infocomme Shoppe. All rights reserved.
(Best viewed at 800 x 600.)