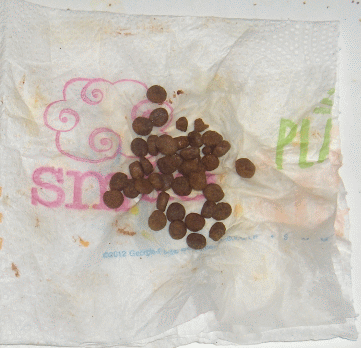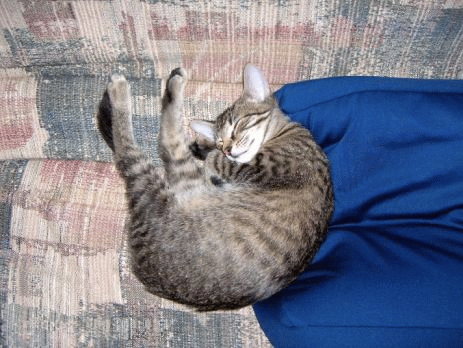 (Click on any of these images to see a larger version.)
Up on the auction block for one day only is this small pile of slightly digested, regurgitated cat food. It is in great condition, having been used only once by my cat, for less than an hour before she hwarfed it up all over the carpet. There was originally a small hairball mixed in with the food, however this auction is for the cat food only; the hairball is NOT included. I will include the napkin shown in the photo, if you don't mind paying the slightly higher shipping cost. Don't worry, kitty is fine now. Her name is "Beandip", but don't bother trying it as any of my login passwords because I know better than that.
The cat food consists of several small brown pellets of Merrick Purrfect Bistro brand kibble, senior formula, suitable for both indoor and outdoor cats. It is all natural with chicken as the primary ingredient, and no grains, gluten, or byproduct meal. It started out dry, but was wet (and still warm) when I discovered it, but it will probably become dry again by the time this auction ends (one day only). No human has ever ventured into a kitty's tummy and returned alive, not even James Cameron, so this is a rare opportunity to acquire an item which has gone someplace you never will!
This item's condition is [F] by Mobyscale standards.
I will package this in a Priority Mail box for maximum protection and fast delivery. The postage amount below includes full insurance and tracking. International buyers, this means I will be declaring the full value on the customs form. I will not ship this item uninsured, or insured for less than the full value, so please do not ask.
Any questions about this item, please do ask. Any questions about BetterThanTheBay in general, check here first, and if that doesn't answer it for you, please ask.
Thanks for visiting!