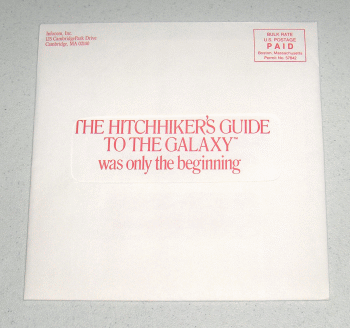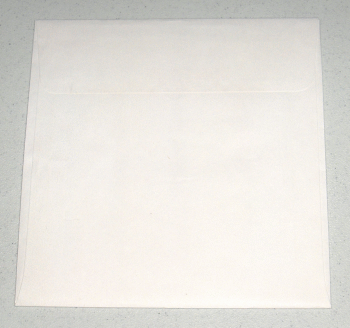 (Click on any of these images to see a larger version.)
This is a promotional dealer mailing for Infocom's Bureaucracy. It consists of a white envelope, measuring 6.5" x 6.5" square, with the text "The Hitchhiker's Guide to the Galaxy was only the beginning" visible through a cut-out window (referring to the first collaboration between Douglas Adams and Infocom, Bureaucracy being the second). The upper left corner contains Infocom's return address. The upper right has their bulk mailing permit. An addressee label would likely be affixed either above or below the cut-out window. The reverse side is blank.
The envelope itself is still sealed. I do not have an opened one so I cannot say what might be inside, nor was my source able to recall this. Open it yourself, or let it remain a mystery forever. This is the only one I have to auction, so don't miss out!
This item's condition is [F(S)] by Mobyscale standards.
I will package this in a plastic comic book sleeve with a backboard, and mail it in a Priority Mail box. The postage amount below includes full insurance and tracking. International buyers, this means I will be declaring the full value on the customs form. I will not ship this item uninsured, or insured for less than the full value, so please do not ask.
Any questions about this item, please do ask. Any questions about BetterThanTheBay in general, check here first, and if that doesn't answer it for you, please ask.
Thanks for visiting!