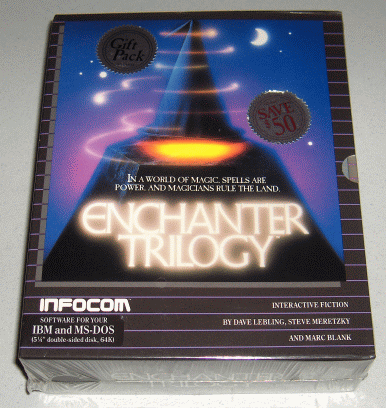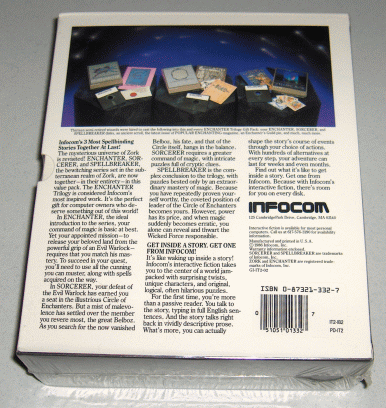 (Click on any of these images to see a larger version.)
Shrinkwrapped Enchanter Trilogy package for IBM PC. (The version everybody seems to want, hence the high starting bid.)
Overall, it is difficult to imagine finding one of these in better condition, but it's still not perfect. There is a slight crease on the slipcover in the front, along the top right edge; and and another, longer but less visible, in the back along the top left edge. A couple of the box corners are slightly rounded. There is a small amount of scuffing on the system label. And there is a tear measuring about 1" in the shrinkwrap, on the bottom of the package. A pair of stickers on the front and the telltale pencil-sized hole in the wrap indicate its authenticity.
This item's condition is [F(T)] by Mobyscale standards.
I will package this in a sturdy cardboard box with plenty of packing material, and send it via Priority Mail. The postage amount below includes full insurance and tracking. International buyers, this means I will be declaring the full value on the customs form. I will not ship this item uninsured, or insured for less than the full value, so please do not ask.
Any questions about this item, please do ask. Any questions about BetterThanTheBay in general, check here first, and if that doesn't answer it for you, please ask.
Thanks for visiting!