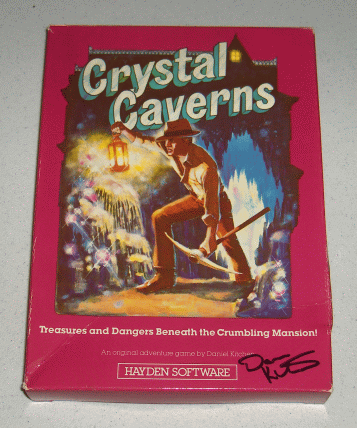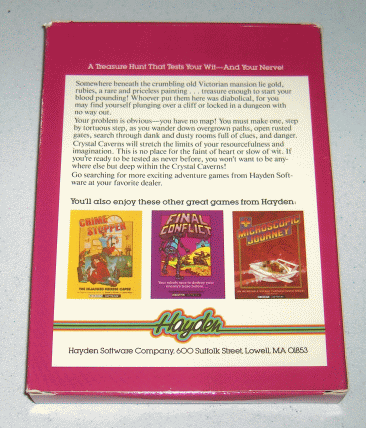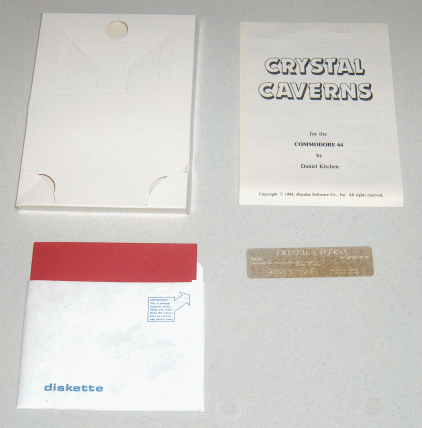 (Click on any of these images to see a larger version.)
Here's an item with not only some game history behind it, but a little Shoppe history as well. Crystal Caverns text adventure for Commodore 64, by Hayden Software, designed by Dan Kitchen of Activision. Back in 2003 I sent him this copy and he autographed it... and then sent it back in a flimsy bubble envelope even though I'd enclosed a nice pre-printed, prepaid label that all he had to do was stick it over the one on my original mailing box. (Seriously, what the heck, Dan? Who does this?!) I obtained a replacement copy as soon as I could, and this one got buried in the depths of the Shoppe and forgotten, until my cleaning and organizing this year unearthed it again.
Normally I don't sell items once I've had them autographed, but this one... I just can't stand to look at it anymore. (I have a real problem getting over negative experiences. I admit this.) The starting bid is the amount Crystal Caverns typically went for at the time. I'm interested to see what it goes for now, and whether the autograph outweighs the damage.
Inside are the paperboard box insert, which is not dented as badly as the outer box but still has a noticeable ding; the manual which shows signs of use; and the disk, whose label has come completely loose but is still included and in one piece.
This item's condition is [G/VG] by Mobyscale standards.
I will package this in a sturdy cardboard box with packing material, so it doesn't get more damaged than it already is, and send it via Priority Mail. The postage amount below includes full insurance and tracking. International buyers, this means I will be declaring the full value on the customs form. I will not ship this item uninsured, or insured for less than the full value, so please do not ask.
Any questions about this item, please do ask. Any questions about BetterThanTheBay in general, check here first, and if that doesn't answer it for you, please ask.
Thanks for visiting!