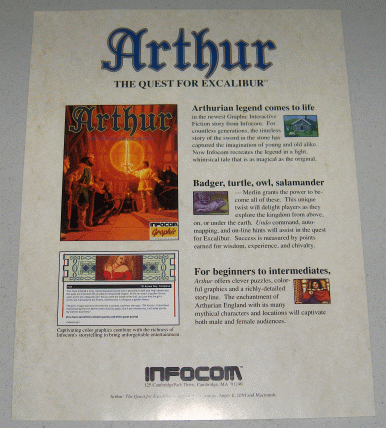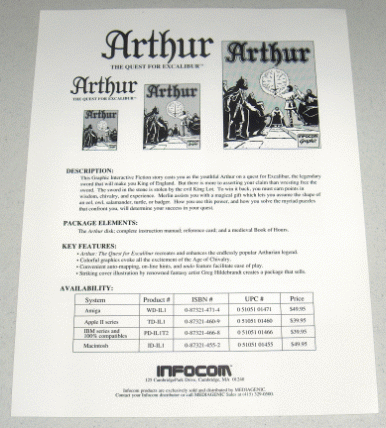 (Click on any of these images to see a larger version.)
Glossy sale sheets for 6 of Infocom's products:
Arthur: The Quest for Excalibur
Beyond Zork
Lurking Horror
Nord and Bert Couldn't Make Head or Tail of It
Plundered Hearts
Stationfall
Infocom sent these to software retailers in the 1980s to encourage them to carry their games.
Several people have expressed an interest in these but were hesitant to bid because of the shipping cost for just one sheet. Here is your chance to get a bunch of them at once. This set contains one of every different sheet I still have extras of.
Each sheet measures 8.5" x 11" and is double-sided, with the front sides in color, showing the game's cover art and a description for use as an advertisement. The reverse sides are in black and white, describing the game, packaging, key features, and the platforms on which they were available.
All of the sheets are in excellent condition, rating [F] by MobyScale standards.
I will package each of these in their own plastic comic book sleeve with backboard for protection, and mail them in a Priority Mail box. The postage amount below includes full insurance and tracking. International buyers, this means I will be declaring the full value on the customs form. I will not ship these items uninsured, or insured for less than the full value, so please do not ask.
Any questions about this item, please do ask. Any questions about BetterThanTheBay in general, check here first, and if that doesn't answer it for you, please ask.
Thanks for visiting!