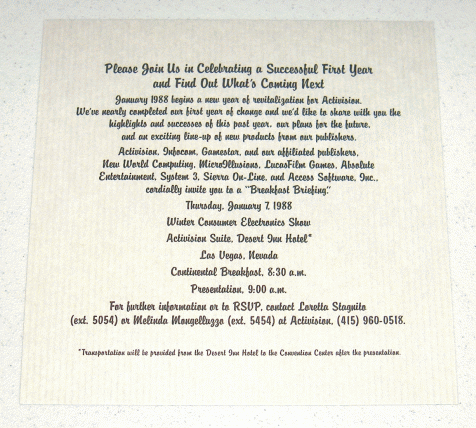 (Click on the image to see a larger version.)
An press invitation to a 9AM "Breakfast Briefing" presented by Activision at a Las Vegas hotel, during the Winter Consumer Electronics Show on July 7, 1988. The event was to promote new game products from Activision and their affiliated publishers... including the recently acquired Infocom. Other companies of note include Sierra On-Line and LucasFilm Games (before they became known as LucasArts). The invite consists of off-white card stock measuring 6.25" x 6.25", printed on one side in black ink. The reverse side is blank. At one point there was likely an envelope to hold the invitation, however it is not present here. I can't imagine many of these surviving 27 years later, so don't miss out on your chance to own a small piece of industry history.
The invitation is in in excellent condition, rating [F] by MobyScale standards.
I will package this in a plastic comic book sleeve with a backboard for protection, and mail it in a Priority Mail box with plenty of packing material. The postage amount below includes full insurance and tracking. International buyers, this means I will be declaring the full value on the customs form. I will not ship these items uninsured, or insured for less than the full value, so please do not ask.
Any questions about this item, please do ask. Any questions about BetterThanTheBay in general, check here first, and if that doesn't answer it for you, please ask.
Thanks for visiting!