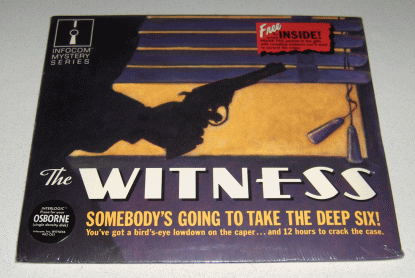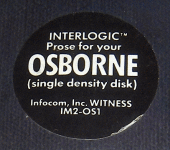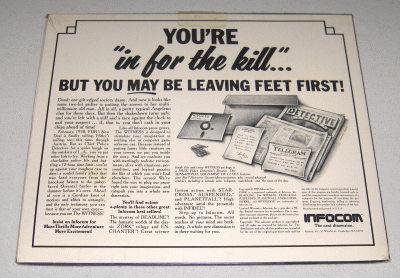 (Click on any of these images to see a larger version.)
Shrinkwrapped The Witness folio package for the Osborne series of computers (the Osborne 1, and the Osborne Executive and Executive II), which actually ran the game under a version of CP/M. I'm interested to see if this rare platform makes the game more desirable to collectors, hence its listing on BetterThanTheBay instead of the Shoppe.
Overall, the package is in excellent condition. The lower left and right corners are slightly bent, and the shrinkwrap in the upper-right corner is worn away, leaving the package corner a bit worn as well. The bottom part of the plastic hanger is still attached to the back of the package, but the top half has been broken off. These are the only visible defects. The front has an early "Interlogic Prose" system sticker on the outside of the wrap, and both the front and back of the wrap have the telltale pencil-sized hole, indicating its authenticity. Obviously I cannot vouch for the functionality of the game disk, since the package is sealed.
Overall, the item's condition is [F(S)] by Mobyscale standards.
I will package this carefully in bubble wrap and mail it in a Priority Mail box. The postage amount below includes full insurance and tracking. International buyers, this means I will be declaring the full value on the customs form. I will not ship this item uninsured, or insured for less than the full value, so please do not ask.
Any questions about this item, please do ask. Any questions about BetterThanTheBay in general, check here first, and if that doesn't answer it for you, please ask.
Thanks for visiting!