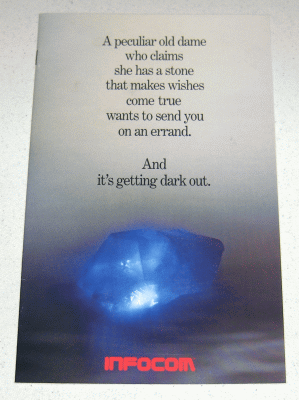 (Click on the image to see a larger version.)
"A peculiar old dame who claims she has a stone that makes wishes come true wants to send you on an errand. And it's getting dark out."
So states the cover of the coloquially named "Peculiar Old Dame" catalog, referring to Infocom's Wishbringer. Far and away Infocom's rarest product catalog. I've seen it in one or two, but not all, copies of Fooblitzky... and not much else. It's too large to fit in a grey box's prop tray, and going by the games it mentions, too late to have been included in the folios and too early for the slipcase releases. If you're missing it, now is your chance to get it.
This item's condition is [F] by Mobyscale standards.
NOTE: Since this is an uncommon but (I suspect) not particularly valuable item, I'm willing to be flexible on my usual shipping requirements. The shipping cost listed below is if you want Priority Mail with full insurance. I can also send it in an envelope between two pieces of cardboard, which should only be between $2 and $3 within the United States. Of course if I'm already holding other items for you, I can easily include it with them as well.
Any questions about this item, please ask. Any questions about BetterThanTheBay in general, check here first, and if that doesn't answer it for you, please ask.
Thanks for visiting!