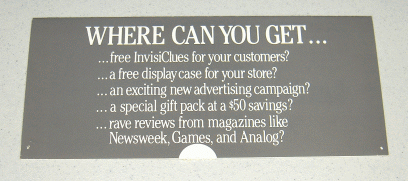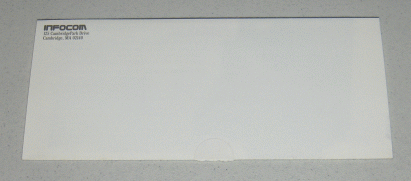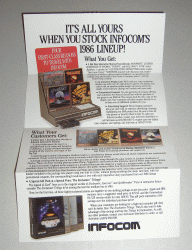 (Click on any of these images to see a larger version.)
"Travel with Infocom" promotional dealer brochure, sent to software retailers in 1986. The brochure is a four-panel color mailer that unfolds to 9" x 16", showing and describing four games -- Ballyhoo, Trinity, Leather Goddesses of Phobos, and Moonmist -- and a cardboard display stand that was available for them, complete with coupons and a slot to hold copies of Infocom's "Passport" catalog. (NOTE: The actual display stand is NOT included. I want one of these!) Also mentions the Enchanter Trilogy. The white sticker seal on the brochure is still intact. This brochure has never been opened. I am reusing a photo of a different, previously auctioned item, to show you what it looks like on the inside.
This item's condition is [F] by Mobyscale standards.
I will package this in a plastic comic book sleeve with a backboard, and mail it in a Priority Mail box. The postage amount below includes full insurance and tracking. International buyers, this means I will be declaring the full value on the customs form. I will not ship this item uninsured, or insured for less than the full value, so please do not ask.
Any questions about this item, please do ask. Any questions about BetterThanTheBay in general, check here first, and if that doesn't answer it for you, please ask.
Thanks for visiting!