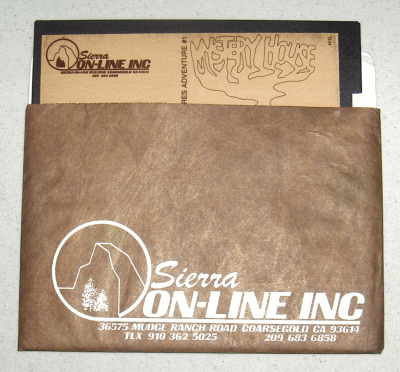 (Click on this image to see a larger version.)
Loose Mystery House (Hi-Res Adventure #1) disk for Apple II series computers, from Sierra's fourth and final release of the game -- the SierraVenture 8.5" x 11" folder packaging. The disk has a tan label with the Sierra On-Line, Inc. mountain peak logo, and comes in the original brown sleeve with the same logo. The label is in excellent shape aside from some discoloration along the top edge. I have tested the disk on my own Apple IIc, and it loads up just fine, though I did not play through the entire game.
This item's condition is [VG] by Mobyscale standards.
I will package and mail this between two pieces of cardboard in a small Priority Mail box for maximum protection. The postage amount below includes full insurance and tracking. International buyers, this means I will be declaring the full value on the customs form. I will not ship this item uninsured, or insured for less than the full value, so please do not ask.
Any questions about this item, please do ask. Any questions about BetterThanTheBay in general, check here first, and if that doesn't answer it for you, please ask.
Thanks for visiting!