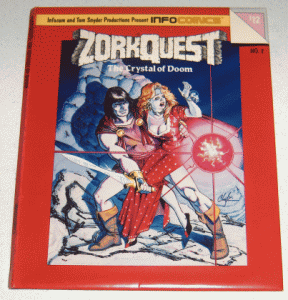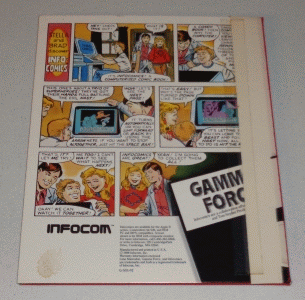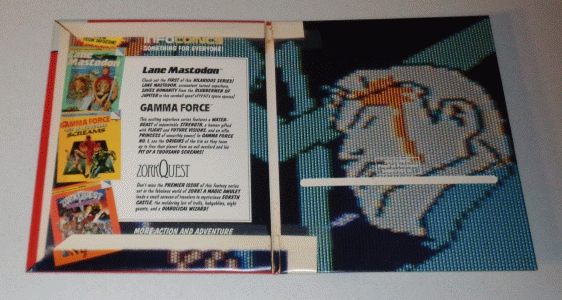 (Click on any of these images to see a larger version.)
Mockup / preview folder for the ZorkQuest #2: The Crystal of Doom. This folder was part of the packaging design phase, put together to demonstrate how the new game's cover would assemble with the other Infocomics folder components. The front and spine are from ZorkQuest #2, but the back cover and the Infocomics blurb on the inner left side of the folder are pieces from a Gamma Force package. It looks like several pieces of Infocomics packaging taped together, because that's literally what it is. There is no disk, instruction sheet or Infocom catalog included. There is some discoloration on the inside spine at the top, and another spot on the back in the lower-left corner.
This piece provides some insight into Infocom's package creation process. ZQ2 is also the rarest Infocomic by far, and the only sequel to any of the original three, so if nothing else you've got a placeholder package that also doubles as a collection conversation piece. This is the last one I have available to auction, so bid high or risk missing out.
This item's condition is [VG] by Mobyscale standards. (Normally I mark down condition for boxes with taped edges, but I did not in this case.)
I will package and mail this in a Priority Mail box for maximum protection. The postage amount below includes full insurance and tracking. International buyers, this means I will be declaring the full value on the customs form. I will not ship this item uninsured, or insured for less than the full value, so please do not ask.
Any questions about this item, please do ask. Any questions about BetterThanTheBay in general, check here first, and if that doesn't answer it for you, please ask.
Thanks for visiting!