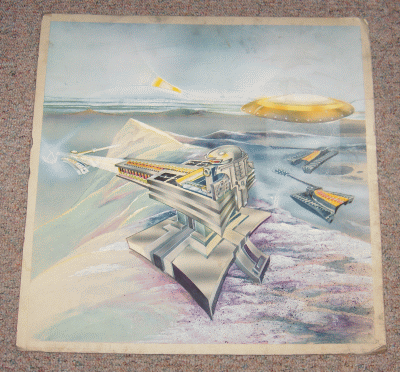 (Click on the image to see a larger version.)
This is the original painting used as the cover art for the game Devil's Tower by John Olsen, published in 1982 for the TRS-80 Model I and III by Fantastic Software, who also published Panik!, the Forbidden Planet / Forbidden City talking text adventures, and at least one Star Trek themed game. More information about Devil's Tower is available at TRS-80.org. I obtained this (among other pieces) years ago from Al Loose, the president of Fantastic Software.
The painting measures 26" x 26". Unfortunately it was not taken care of particularly well, having been stored in an attic for nearly 30 years. There is quite a bit of fraying around the edges, and the whole piece is somewhat dirty. I've avoided attempting to clean it up out of concern over doing additional damage. Still, this is an absolutely unique item and the perfect centerpiece for any TRS-80 collection.
Overall this item rates [G] by MobyScale standards.
The shipping... is probably going to hurt a little. I have a large flat cardboard container that will hold it, and I will wrap the painting in some plastic and include some extra cardboard pieces for additional protection. The USPS's website quoted me the price below for Priority Mail, but this is an odd-shaped item so there's a chance they may tack on a surcharge, so please be prepared. Unfortunately the whole thing weighs well over 4 pounds, so international shipping will likely be very expensive. I will be declaring the full value on the customs form. I will not ship this uninsured, or insured for less than the full value, so please do not ask.
Any questions about this item, please do ask. Any questions about BetterThanTheBay in general, check here first, and if that doesn't answer it for you, please ask.
Thanks for visiting!