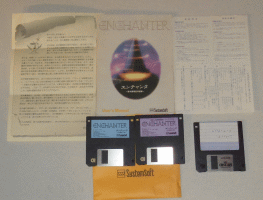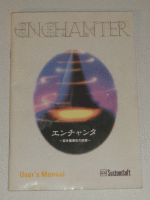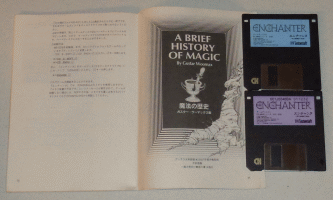 (Click the images to see larger versions.)
Extremely rare Japanese graphic adventure adaptation of Infocom's Enchanter for the PC-9800, published by SystemSoft. One of only four Infocom titles to be released in Japan. (The other three were Zork I, Planetfall and Quarterstaff.)
This copy does not include the outer box, but has everything else: The 3.5" disks in their original envelope, instruction manual, ancient scroll and registration card, all in Japanese. Infocom is not directly mentioned anywhere, but the manual uses the cover artwork from the Enchanter Trilogy triple pack and includes a Japanese translation of Gustar Woomax's "A Brief History of Magic." The manual shows some wear from use. Everything else is in excellent condition. There is even an additional disk with a handwritten label, presumably a saved game disk from the previous owner. I have no means of checking the disks to verify whether they work.
One of the rarest and most unusual Infocom releases out there. I have only ever seen this for sale once before, and that was the boxed copy I have in my personal collection. (And no, that one is not for sale.) Even in Japan, it is extremely hard to find. I have absolutely no clue what to price this at, hence the auction. Bid high or risk regretting it for the rest of your collecting life.
Using the MobyScale, the condition score is [IM/VG].
I will package this in a box for protection, and mail it via Priority Mail. The postage amount below includes full insurance and tracking. International buyers, this means I will be declaring the full value on the customs form. I will not ship this item uninsured, or insured for less than the full value, so please do not ask.
Any questions about this item, please do ask. Any questions about BetterThanTheBay in general, check here first, and if that doesn't answer it for you, please ask.
Thanks for visiting!