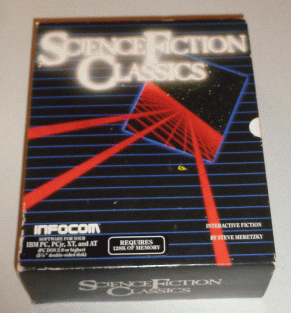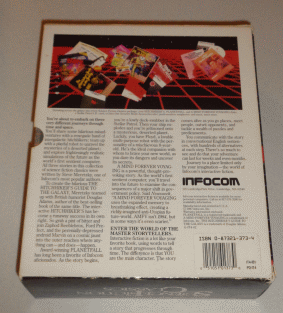 (Click the images to see larger versions.)
Infocom Science Fiction Classics triple-pack for PC. Contains The Hitchhiker's Guide to the Galaxy, Planetfall and A Mind Forever Voyaging in a special outer slipcover.
The slipcover has some edge and corner wear. By MobyScale standards it rates [VG].
The box for Hitchhiker's Guide has one significantly worn spot on the left edge. A white sticker on the front cover indicates "Disk in Planetfall package." (Those two games are on the same disk.) Has all of the materials: "Don't Panic!" button, orders for destruction of Arthur Dent's house and Earth, Peril-Sensitive Sunglasses, authentic fluff, microscopic space fleet and no tea. The miscellaneous cards/catalogs are in the AMFV box. Infocom only included one set per slipcover.
By MobyScale standards, the Hitchhiker's Guide package rates [VG/F].
The Planetfall box has just a bit of edge wear. It contains the game disk which also has Planetfall (a special label for this release shows both game titles), Stellar Patrol ID card, three interstellar postcards, and journal pages, including the blank page. Again, no cards/catalogs as those are in the AMFV box.
By MobyScale standards, the Planetfall package rates [F/F].
The box for A Mind Forever Voyaging has some edge wear and a couple of minor spine cracks. It is missing the pen but has the code wheel and map of Rockvil. The PC reference card, registration card, InvisiClues offer and fold-out poster / game catalog are all included in this box.
By MobyScale standards, the AMFV package rates [VG/F(IM)].
I will package this in a box with plenty of padding for protection. The postage amount below includes full insurance and tracking. International buyers, this means I will be declaring the full value on the customs form. I will not ship this item uninsured, or insured for less than the full value, so please do not ask.
Any questions about this item, please do ask. Any questions about BetterThanTheBay in general, check here first, and if that doesn't answer it for you, please ask.
Thanks for visiting!