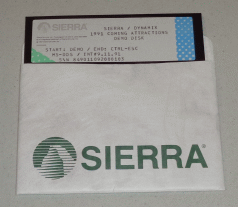 (Click the image to see a larger version.)
Sierra / Dynamix 1991 Coming Attractions Demo Disk for PC. Contains previews of The Adventures of Willy Beamish, The Castle of Dr. Brain, Conquests Of The Longbow: The Legend Of Robin Hood, Heart of China, Leisure Suit Larry 5: Passionate Patti Does a Little Undercover Work, Nova 9 and Police Quest III: The Kindred. Obviously since it's a 5.25" disk the sizes of the previews are going to be somewhat limited. Unfortunately I do not have a working drive to test this on. I can point you to the contents online if you're interested in seeing them. This auction is for the original physical disk.
I'm not sure how these originally found their way to players, and I'm also not sure what one might be worth. Let's find out together.
I will package this between two pieces of sturdy cardboard for protection, and mail it via Priority Mail. The postage amount below includes full insurance and tracking. International buyers, this means I will be declaring the full value on the customs form. I will not ship this item uninsured, or insured for less than the full value, so please do not ask.
Any questions about this item, please do ask. Any questions about BetterThanTheBay in general, check here first, and if that doesn't answer it for you, please ask.
Thanks for visiting!