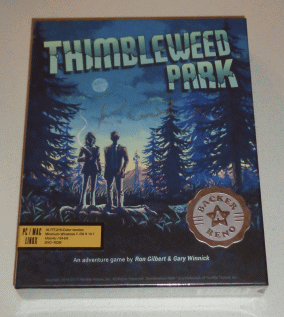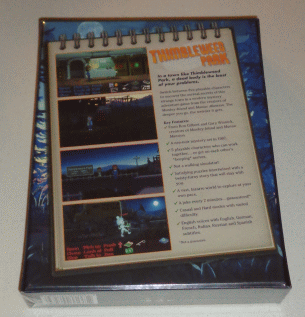 (Click the images to see larger versions.)
Physical release of Thimbleweed Park, a throwback to the early LucasFilm graphic adventures such as Maniac Mansion and Zak McKracken. This is the Kickstarter Backer physical release in a two-piece box reminiscent of later LucasArts releases such as Monkey Island and Sam and Max. There is a silver seal on the wrap (not under it!) indicating this as the Kickstarter Backer version, which is not present on other physical releases of the game. Additionally it is signed by creators Ron Gilbert and Gary Winnick, under the wrap, on the box itself. I was a backer for this project, and there is even a recorded message in the game mentioning Ye Olde Infocomme Shoppe... assuming they let me get away with that - I still haven't gotten around to playing it and checking.
I have no idea where else you might ever get one of these. I've never seen another one go up for sale. If someone is willing to meet my auction price I can be persuaded to part with it.
The game is still sealed, in perfect condition. By MobyScale standards it rates [MS.
I will package this in a box with plenty of padding for protection. The postage amount below includes full insurance and tracking. International buyers, this means I will be declaring the full value on the customs form. I will not ship this item uninsured, or insured for less than the full value, so please do not ask.
Any questions about this item, please do ask. Any questions about BetterThanTheBay in general, check here first, and if that doesn't answer it for you, please ask.
Thanks for visiting!