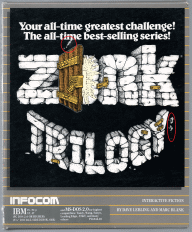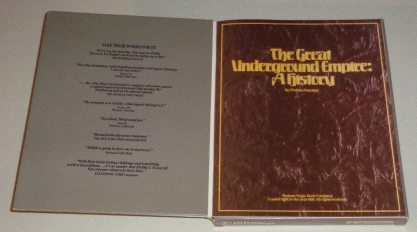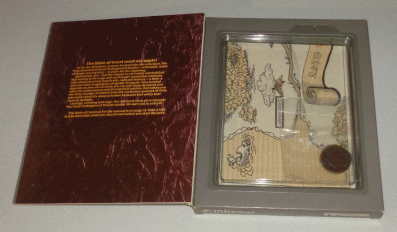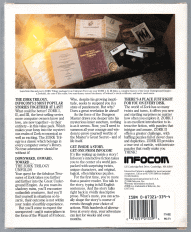 (Click the images to see larger versions.)
Zork Trilogy for PC. This 1986 release collected the three original Zork games in one classic grey box package. This copy is missing the game disks, reference/registration cards and catalog, but everything else is here: The instruction manual with a history of the Great Underground Empire, Zork I map, Zork II Greyslopes and Bozbarland flyers, Zork III FrobozzCo stock certificate and shareholder letter, and best of all, the metal Zorkmid coin made specifically for this release.
The system label on the box is for IBM PC and compatibles. The box has a couple of small scuff spots on the front cover. I have highlighted them in one of the above images. There is also some minor edge and corner wear, and a small dent on the right edge of the spine.
The Zorkmid is still sealed in its plastic baggie. It is an original, not one of the numerous reproductions floating around these days. Widely regarded as one of Infocom's best props, it is probably the most sought-after item from their released games.
Using the MobyScale, this item's condition score is [VG/VG(IM,MMC)].
I will package this in a sturdy cardboard box for protection, and mail it via Priority Mail. The postage amount below includes full insurance and tracking. International buyers, this means I will be declaring the full value on the customs form. I will not ship this item uninsured, or insured for less than the full value, so please do not ask.
Any questions about this item, please do ask. Any questions about BetterThanTheBay in general, check here first, and if that doesn't answer it for you, please ask.
Thanks for visiting!