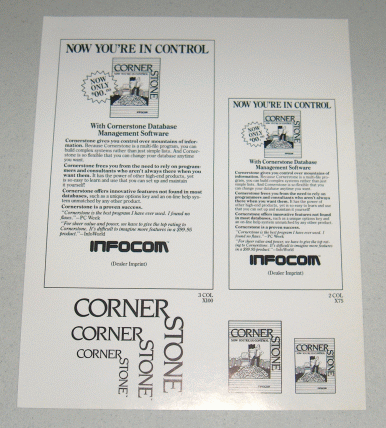 (Click the image to see a larger version.)
One-sided glossy sale sheet for Infocom's infamous database software Cornerstone. Measures 8.5" x 11". The front side is in black and white, and includes two different-sized versions of an ad, with space at the bottom for a dealer imprint. The "$00.00" price is a placeholder. Also includes three sizes of the Cornerstone logo, and two sizes of the hand-drawn illustration that eventually became the cover for the budget release of the software. (Learn more about Cornerstone packaging than you could ever want to know at the Cornerstone database database.) The reverse side is blank.
This item's condition is [F] by Mobyscale standards.
I will package this in a plastic comic book sleeve and mail it in a Priority Mail box with a piece of sturdy cardboard. The postage amount below includes full insurance and tracking. International buyers, this means I will be declaring the full value on the customs form. I will not ship this item uninsured, or insured for less than the full value, so please do not ask.
Any questions about this item, please do ask. Any questions about BetterThanTheBay in general, check here first, and if that doesn't answer it for you, please ask.
Thanks for visiting!