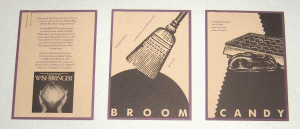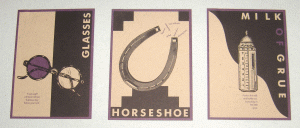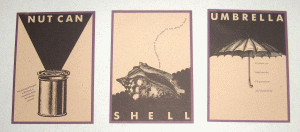 (Click on any of these images to see a larger version.)
Dealer promotional mailing for Infocom's Wishbringer. It consists of nine (9) 4.5" x 6.25" cards printed in black and purple on tan, speckled card stock. One of the cards is a sales pitch to dealers, encouraging them to carry the game and providing information on how to order it. The other eight contain illustrations of the items from the game used to make wishes (horseshoe, milk of grue, etc). Originally these were sent along with a fake can of nuts that had a paper snake inside which would pop out when you opened it. This auction is for the cards only. It does not include the nut can.
Overall, the cards are in good condition. However they were stored paper-clipped together for almost three decades, and the clip rusted, leaving a mark on the front of the first card (the dealer enticement, visible in the first photo) and the back of last card ("Umbrella"). There are also slight impression marks left by the paper clip, and a couple of the cards are very slightly worn at one or more corners.
There is one of these sets in my personal collection, and this one. I do not have any others, so this is the only set that I will be auctioning here. I cannot imagine many more of these surviving today. Bid now, while you have the chance!
This item's condition is [VG] by Mobyscale standards.
I will package this in a plastic comic book sleeve and mail it in a Priority Mail box with a piece of sturdy cardboard. The postage amount below includes full insurance and tracking. International buyers, this means I will be declaring the full value on the customs form. I will not ship this item uninsured, or insured for less than the full value, so please do not ask.
Any questions about this item, please do ask. Any questions about BetterThanTheBay in general, check here first, and if that doesn't answer it for you, please ask.
Thanks for visiting!