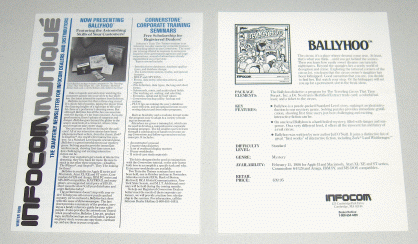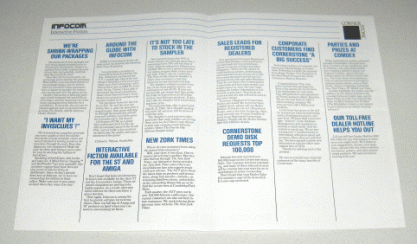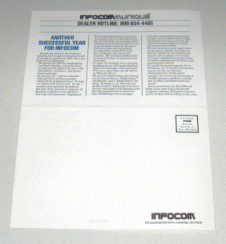 (Click on any of these images to see a larger version.)
Every Infocom collector is familiar with The New Zork Times and The Status Line, the newsletters sent out to Infocom fans and customers. But few have ever seen Infocommuniqué, the newsletter Infocom sent to its dealers! This is the Winter 1986 issue, a four-page newsletter printed in black and blue on white, much like the later Status Line issues (although this was published at the tail end of NZT's run).
Includes brief articles on Ballyhoo, InvisiClues, Amiga and Atari ST releases, a full page about Cornerstone, a year-in-review summary of the company, and an announcement that they have begun shrinkwrapping their games prior to shipping them to distributors (answering what was, for me anyway, an age-old question). Fascinating reading, and a must-have for any serious Infocom collector. Included inside is a glossy black-and-white single-sided sell sheet for Ballyhoo featuring hand-drawn cover art.
Measures 8.5" x 11". The bottom half of the back page is a mailing area with space for the recipient's address. This copy has never been mailed, but it does have a horizontal fold going across the pages.
This item's condition is [F] by Mobyscale standards.
I will package this in a plastic comic book sleeve and mail it in a Priority Mail box with a piece of sturdy cardboard. The postage amount below includes full insurance and tracking. International buyers, this means I will be declaring the full value on the customs form. I will not ship this item uninsured, or insured for less than the full value, so please do not ask.
Any questions about this item, please do ask. Any questions about BetterThanTheBay in general, check here first, and if that doesn't answer it for you, please ask.
Thanks for visiting!