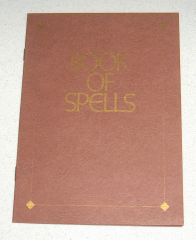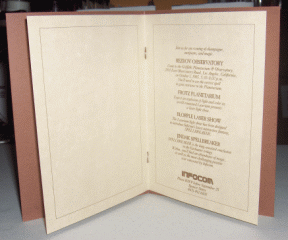 (Click on any of these images to see a larger version.)
An invitation to the Spellbreaker launch party held at Griffith Park Observatory on October 1st, 1985. Presented as a 5" x 7" booklet with the outer cover on heavy brown paper with embossed gold lettering, designed to resemble a leather spell book. The inside has four pages in parchment with brown writing, containing event details and several spells from the game that attendees had to provide to gain entrance. In perfect condition, however the original mailing envelope is not included.
This item's condition is [NM] by Mobyscale standards.
I will package this in a plastic comic book sleeve and mail it in a Priority Mail box with a piece of sturdy cardboard. The postage amount below includes full insurance and tracking. International buyers, this means I will be declaring the full value on the customs form. I will not ship this item uninsured, or insured for less than the full value, so please do not ask.
Any questions about this item, please do ask. Any questions about BetterThanTheBay in general, check here first, and if that doesn't answer it for you, please ask.
Thanks for visiting!