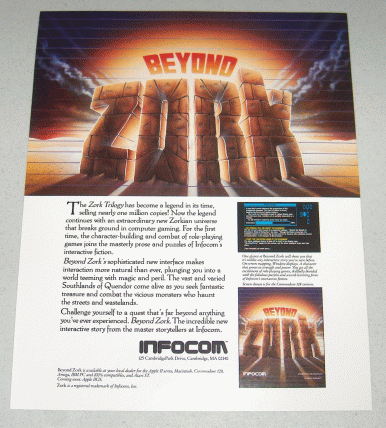 (Click the image to see a larger version.)
Two-sided glossy sale sheet for Infocom's Beyond Zork. Infocom sent these to software retailers in the 1980s to encourage them to carry their games.
Measures 8.5" x 11". The front side is in color and shows the game's cover art and a description for use as an advertisement. The back side is blank.
This item's condition is [F] by Mobyscale standards.
I will package this in a plastic comic book sleeve and mail it between two pieces of sturdy cardboard. Please use the links below to determine your postage cost. You only pay the base postage. Full insurance is included, and I'll cover that. International buyers, this means I will be declaring the full value on the customs form. I will not ship this item uninsured, or insured for less than the full value, so please do not ask.
Any questions about this item, please ask. Any questions about BetterThanTheBay in general, check here first, and if that doesn't answer it for you, please ask.
Thanks for visiting!