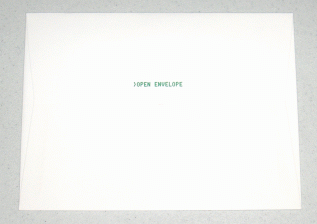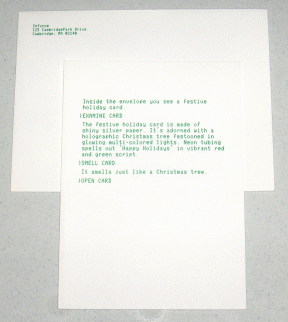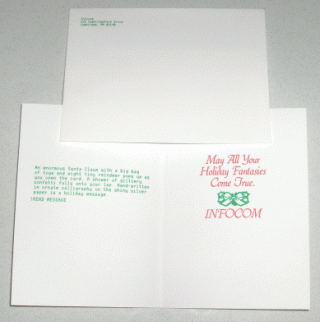 (Click on any of these images to see a larger version.)
An unmailed holiday card from Infocom, done in the style of one of their text adventures. The envelope flap has ">OPEN ENVELOPE" printed on it, and inside are other typed commands such as ">EXAMINE CARD" and ">OPEN CARD" and their responses, directing the recipient to the message inside. (Contrary to one of these, the card does not actually smell like a Christmas tree. Assuming it ever did, the fragrance has long since faded.) The outer envelope measures 6.5" x 4.75", and the card inside is slightly smaller. I'm not certain what year these were sent out, but the outer envelope has their later CambridgePark address as the return. I can't imagine that many of these survived over the past few decades. Don't miss this chance to own a highly unique Infocom item!
This item's condition is [F] by Mobyscale standards.
I will package this in a plastic comic book sleeve and mail it between two pieces of sturdy cardboard. The postage amount below includes full insurance and tracking. International buyers, this means I will be declaring the full value on the customs form. I will not ship this item uninsured, or insured for less than the full value, so please do not ask.
Any questions about this item, please do ask. Any questions about BetterThanTheBay in general, check here first, and if that doesn't answer it for you, please ask.
Thanks for visiting!