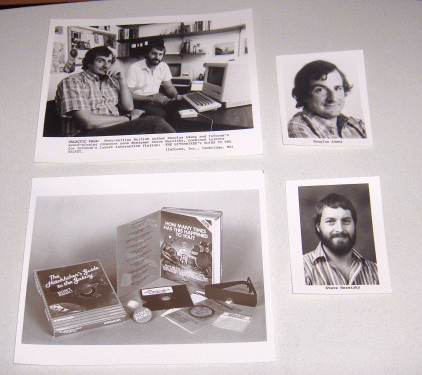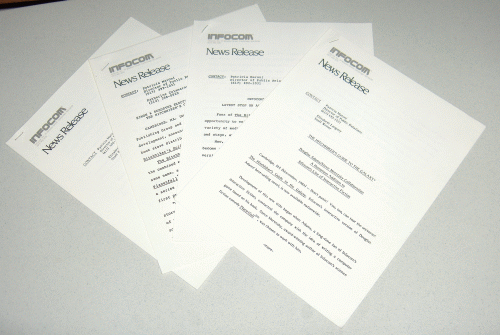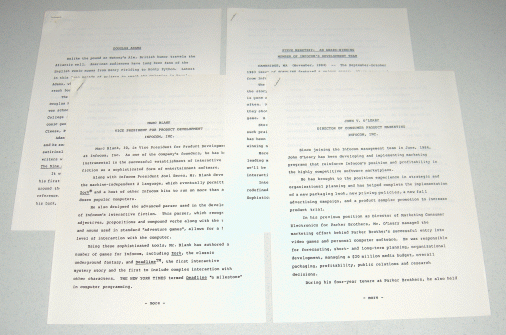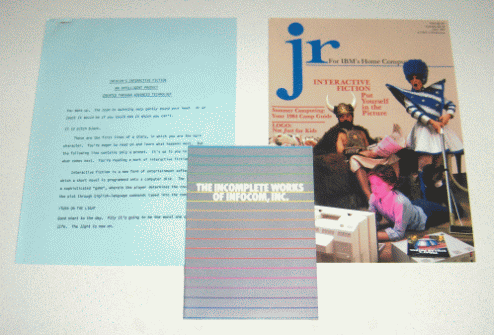 (Click on any of these images to see a larger version.)
Set of press kit materials for Infocom's The Hitchhiker's Guide to the Galaxy. Includes:
Individual photographs of Douglas Adams and Steve Meretzky, a larger shot of them seated together, and a shot of the game's packaging and props (all B&W photos).


Four press releases about the game, printed on Infocom letterhead.


Biographies of Douglas Adams, Steve Meretzky, Marc Blank, and John V. O'Leary (Infocom's Director of Consumer Product Marketing), printed on plain white paper.


"Infocom's Interactive Fiction: An Intelligent Product Created Through Advanced Technology", an 11-page outline explaining Infocom's games, printed on blue paper.


Full-color glossy reprint of a jr (IBM magazine) article about Infocom by Ken Sheldon.


"The Incomplete Works of Infocom, Inc." catalog.
These materials were obtained from a former Infocom employee who has verified them as original, not reproductions. Some of the press releases and bios have some slight corner wear, and a couple of the staples holding the pages together are slightly rusted from age.
Overall, these items' condition is [VG] by Mobyscale standards.
I will package these items securely between two pieces of sturdy cardboard for protection, and mail them in a Priority Mail box. The postage amount below includes full insurance and tracking. International buyers, this means I will be declaring the full value on the customs form. I will not ship this item uninsured, or insured for less than the full value, so please do not ask.
Any questions about this item, please do ask. Any questions about BetterThanTheBay in general, check here first, and if that doesn't answer it for you, please ask.
Thanks for visiting!