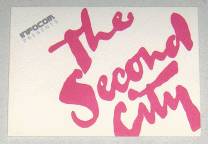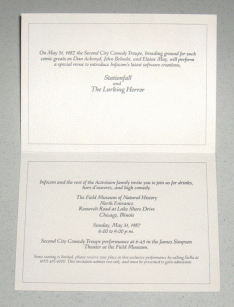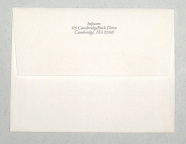 (Click on any of these images to see a larger version.)
The Second City is an improvisational comedy troupe based out of Chicago, which helped launch the careers of legendary comedians such as John Belushi, Dan Aykroyd, Bill Murray, Dan Castellaneta (the voice of Homer Simpson) and Stephen Colbert. In 1987 Infocom hired The Second City to perform at a promotional event for The Lurking Horror and Stationfall, held on May 31st at Chicago's Field Museum of Natural History. This is a leftover invitation to that event. It consists of a 5.5" x 4" cream stock card folded in half with the Infocom and Second City logos on the front and invitation text inside, and a matching envelope with Infocom's mailing address.
The envelope has no delivery address and the invitation was never sent out. I can't imagine many of these surviving to today. This is the only one that I will be listing for auction here, as it is the only extra I have. Bid now, or risk never having the opportunity again.
This item's condition is [F] by Mobyscale standards.
I will package this item in a plastic comic book sleeve with backboard for protection, and mail it in a Priority Mail box. The postage amount below includes full insurance and tracking. International buyers, this means I will be declaring the full value on the customs form. I will not ship this item uninsured, or insured for less than the full value, so please do not ask.
Any questions about this item, please do ask. Any questions about BetterThanTheBay in general, check here first, and if that doesn't answer it for you, please ask.
Thanks for visiting!