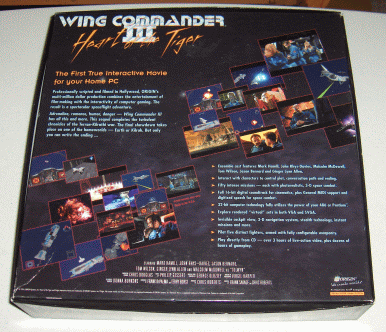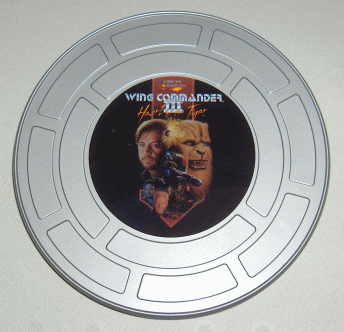 (Click on any of these images to see a larger version.)
So I thought I'd try using BetterThanTheBay to sell a few non-Infocom items. Here is the first one, the Limited Edition of Origin Systems' Wing Commander III: Heart of the Tiger. This is the large deluxe box with the metal film canister inside, and it's complete and in great shape. The front of the outer box has a bit of a dent at the bottom, and the back has a crack in the lower left corner, both visible in the enlarged pictures, but aside from this there is only a little wear on the corners. Inside, the metal film canister is in perfect condition. The T-shirt (XL size) is a bit wrinkled but appears unworn. The iron-ons are stiff and in perfect condition. The four game discs and the behind-the-scenes disc are all flawless. A few of the miscellaneous flyers are somewhat curled at the edges, as the result of being stored for many years inside the canister with its curved edges.
Overall, the package rates [VG/F] by Mobyscale standards.
The price given below is for Priority Mail, but if you're in the United States and ask, I will send it via Standard Rate (formerly Parcel Post) with insurance, since it weighs between 5 and 6 pounds fully packaged. Unfortunately Priority Mail is the only international service that offers insurance. I will not ship this item uninsured, or insured for less than the full value, so please do not ask.
Any questions about this item, please do ask. Any questions about BetterThanTheBay in general, check here first, and if that doesn't answer it for you, please ask.
Thanks for visiting!