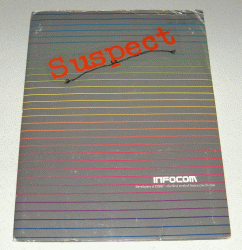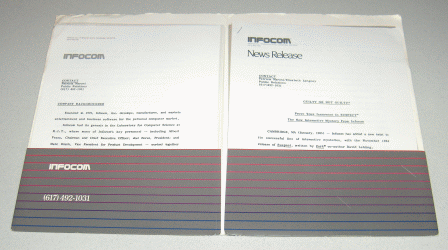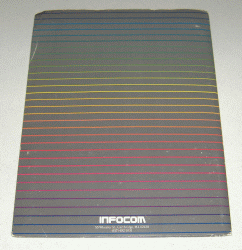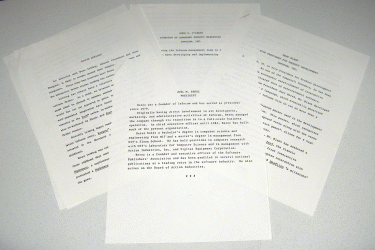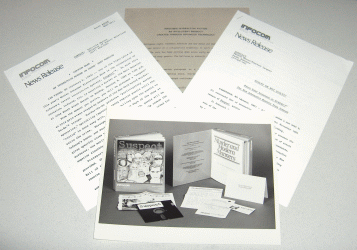 (Click on any of these images to see a larger version.)
Press kit for Infocom's Suspect. Includes the following:
Large (9" x 12") grey outer folder with colored stripes and the Infocom logo. The game's title, as a semi-transparent sticker, has been attached to the front.


Three-page "company background", with the first page printed on official Infocom letterhead. The staple holding the three pages together has been removed.


Employee biographies for Joel Berez, Marc Blank, David Lebling, and John V. O'Leary (Infocom's Director of Consumer Product Marketing), printed on plain white paper. The staple holding Lebling's bio together has been removed.


"Guilty or Not Guilty?" press release announcing the game, with the first page printed on official Infocom letterhead.


"Infocom Bash" news release announcing the Suspect murder party held in Las Vegas' Hart Mansion on January 5, 1985, printed on official Infocom letterhead.


"Infocom's Interactive Fiction: An Intelligent Product Created Through Advanced Technology", a 9-page overview of Infocom, its technology and its games, printed on tan card stock paper.


Glossy black-and-white photograph of the game's packaging and props.
These materials were obtained from a former Infocom employee who has verified them as original, not reproductions. The outer folder shows some wear and damage at the top, and there are varying amounts of wear on some of the press papers inside. The B&W photograph and the 9-page company overview are in excellent shape.
Overall, these items' condition is [G/VG] by Mobyscale standards.
I will package this securely between two pieces of sturdy cardboard for protection, and mail it in a Priority Mail box. The postage amount below includes full insurance and tracking. International buyers, this means I will be declaring the full value on the customs form. I will not ship this item uninsured, or insured for less than the full value, so please do not ask.
Any questions about this item, please do ask. Any questions about BetterThanTheBay in general, check here first, and if that doesn't answer it for you, please ask.
Thanks for visiting!